After Democrats Sue Trump, Their Plan Backfires On Queen AOC
AOC thought she was safe – but she's in deep trouble!
Laws are supposed to apply to everyone, right?
So, if a federal court makes a certain ruling against President Donald Trump, that ruling should hold for all elected officials. Correct?
This only sounds logical to me.
And it sounds logical to former Democratic New York Assemblyman Dov Hikind, who has just filed a lawsuit against Rep. Alexandria Ocasio-Cortez (D-NY).
Why? Because Hikind is claiming AOC is doing the same thing the court said Trump couldn't do:
Blocking people on Twitter.
As he said in a statement announcing the lawsuit (via Fox News):
"Alexandria Ocasio-Cortez has blocked me on Twitter yesterday apparently because my critique of her tweets and policies have been too stinging."
He added that after the 2nd Circuit Court of Appeals told Trump he couldn't block Twitter users, the same should apply to AOC.
After all, the ruling was that Twitter is a "public space," and everyone "should have access to the government officials on it."
Therefore, Hikind believes AOC shouldn't be allowed to block people. And he's not too happy with AOC's behavior, either:
"Ocasio-Cortez is acting cowardly and should be ashamed of her attempts to silence me. I've done nothing but address her ignorance and disregard for the truth.
She constantly brags about the millions of followers she has but is afraid of my speech. She is a hypocrite."
Hikind made it clear that this is a free speech issue, which it definitely appears to be.
The complaint he filed seeks an injunction against Ocasio-Cortez for violating the First Amendment.
AOC has over 4.6 million followers but she apparently has no qualms about blocking people she doesn't like.
Hikind told Fox News that she had banned "several others, including journalists," like OANN's Liz Wheeler: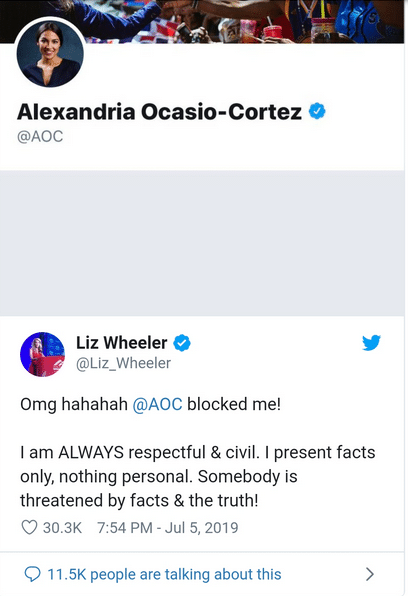 Then, after this news broke, journalist Harry Cherry said AOC had blocked him as well.
And The Daily Wire's Ryan Saavedra wrote back on April 5 that she had blocked him after he "called out her latest set of lies":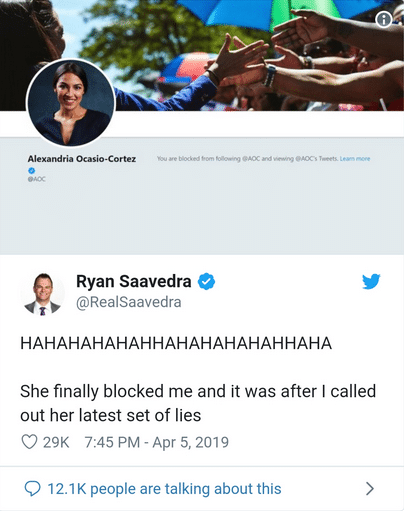 In the end, I think Hikind is correct.
If Trump isn't allowed to block people because he's an elected official, and Twitter is a public space, then AOC should have to follow the same rule.
If this lawsuit doesn't come through for Hikind, many will see it as gross hypocrisy.
I also think it's wrong of AOC to run away from journalists and fellow politicians, just because she doesn't like them.
She's an elected official of the people; she's supposed to listen to them, regardless of whether or not she likes the comments.
SHARE if you think the law should apply to everyone, including AOC!
Omar, Tlaib, And AOC Are Destroying The Democrat Party According To Crucial New Report
The so-called 'Democratic socialist' wing of the Donkey Party is so toxic with voters in critical swing states that it's becoming extremely difficult to win them next year, according to a new internal party poll.
As reported by Axios, the survey discovered that Reps. Alexandria Ocasio-Cortez (D-N.Y.) and Ilhan Omar (D-Minn.) are not the popular little socialist firebrands their outsized media love would indicate:
Ocasio-Cortez is recognized by 74 percent of voters, yet has an approval rating of 22 percent
Omar is recognized by 53 percent of voters and has an approval rating of just 9 percent
Voters understand what socialism is, and 69 percent of them view it unfavorably, while just 18 percent view it favorably
Capitalism, meanwhile, is viewed favorably by 56 percent of respondents, and negatively by 32 percent
The unpopularity is so bad, in fact, that Democrats' chances of retaining control of the House, let alone defeating POTUS Donald Trump, are dim.
"If all voters hear about is AOC, it could put the [House] majority at risk," a top Democratic source told Axios. "[S]he's getting all the news and defining everyone else's races."
"Socialism is toxic to these voters," the source added.
Axios says the survey is important because it shows that "Democrats are sounding the alarm that swing voters know and dislike socialism, warning it could cost them the House and the presidency."
Cortez and Omar — along with Reps. Rashida Tlaib (D-Mich.) and Ayanna Pressley (D-Mass.) form the socialist-leaning "Squad" that has become House Speaker Nancy Pelosi's (D-Calif.) worst nightmare.
Their outsized attention and following is beginning to define who Democrats are, to the detriment of the entire party.
The "Squad"- what a joke.
God Bless.
Jeb Bush Breaks Silence On Generosity The Trump's Showed The Bush Family
The Bush family had a choice – go the John McCain route and have every speaker bash Trump in public or they could put politics aside and celebrate the life of a great man.
They chose the latter and that made all the difference in the world. They invited Trump and then refused to let anyone bash Trump, in fact, they demanded every speaker show the proper respect for the office that George H.W. Bush held so dear.
The Trump's for their part returned the kindness many times over going above and beyond the call of duty to help the Bush family.
From The Daily Wire: Both the Trump and the Bush families have been all class in the wake of the 41st president's passing. On top of refusing to pull a McCain by inviting President Trump to the funeral, the Bushes have only expressed kind words regarding the current president.
On Tuesday, while speaking before the WSJ CEO Council, Jeb Bush, the former Florida governor, thanked both Donald and Melania Trump for their graciousness throughout this process, adding that President Trump "couldn't have been nicer" when he called to pay his respects.
None of that means, however, that Jeb Bush and President Trump's differences have been resolved. In the same talk, Jeb spoke about his father's famous call for a "kinder, gentler America" and how that needs to come back.
"Politically it's not winning," Mr. Bush said of his father's style. "But that's not to say we shouldn't restore it."
 Jeb Bush hoped that his father's death would not be "an end of an era." Later, he spoke of the optimism he has that such an era will return.
"A whole lot of people focused on solving problems, and they know that with civility and kindness and compassion and generosity of spirit you can do far more than pushing people down and making yourself look better," he said. "I'm much more optimistic because I don't come here often."
As to why President Trump would not be giving the eulogy at his father's funeral, the former Florida governor said that it was a matter of circumstance, being that his brother is a former president.
"What people want to talk about is, Well, why isn't the president giving the eulogy?' It's because we have a unique circumstance here my brother was president," he said. "I'm sorry. First dibs."
Laura Bush echoed Jeb's words earlier when she thanked Melania Trump for her kindness.
From The Hill: Former first lady Laura Bush on Tuesday afternoon thanked first lady Melania Trump for a "sweet visit" to the White House.
Melania Trump led 20 members of the Bush family on a tour through the White House on Tuesday, a White House source told CNN. She reportedly gave them holiday cookies and arranged for them to meet with residence staff members.
 Laura Bush posted an Instagram photo of the family with some residence staff members Tuesday.
"A sweet visit during this somber week," the former first lady captioned in the Instagram post.
"Thanks to Mrs. Trump for inviting our family to the White House to see the Christmas decorations and our old friends, the residence staff."
Trey Gowdy Lands New High Profile Media Job And He Deserves It
Trey Gowdy just landed a new high-profile gig and he deserves it. Trey took to social media to make the announcement that he will be moving to Fox News as a contributor.
This is a good move on many levels – Trey is known as a straight shooter who is not afraid of the hard truths and that is needed more than ever in our political landscape.
The left will be trashing Trey and Fox News when they hear the news, but this is standard procedure for media companies to hire ex-Congressmen.
Trey will moonlight for Fox and will keep his day job at his old law firm in South Carolina.
Trey tweeted out: "Appreciative to Fox News for the chance to weigh in on legal/political issues. Sure to be a lot of both in 2019. Practicing law with Nelson Mullins, contributing where appropriate with Fox, and living in South Carolina. Looking forward to a great year," Gowdy wrote on his Twitter page on Wednesday.
From The Hill: Former Rep. Trey Gowdy (R-S.C.) has joined Fox News as a contributor, the network announced Wednesday.
Gowdy, who retired from Congress earlier this month, will offer political and legal analysis on Fox News and the Fox Business Network, the outlet said in a press release.
The former four-term congressman representing South Carolina's 4th Congressional District served as chairman of the House Oversight and Government Reform Committee during his final two years in office.
Appreciative to Fox News for the chance to weigh in on legal/political issues. Sure to be a lot of both in 2019. Practicing law with Nelson Mullins, contributing where appropriate with Fox, and living in South Carolina. Looking forward to a great year.

— Trey Gowdy (@TGowdySC) January 30, 2019
From Deadline:
Among his appointments during Gowdy's eight years representing South Carolina's 4th District, he chaired the House Select Committee on the Benghazi attack and played a key role in Congress' probe into then-Secretary of State Hillary Clinton's role in the 2012 terrorist attack that killed four Americans in Libya. He also got plenty of screen time — including many shouted mild expletives — during last year's Supreme Court confirmation hearings for Brett Kavanaugh.
Gowdy's hiring follows that of retired Sen. Jeff Flake of Arizona joining CBS News on Tuesday; NBC bringing on ex-Sen. Claire McCaskill (D-Missouri); and CNN signing as contributors former Ohio Gov. and 2016 GOP presidential candidate John Kasich — who also inked with CAA this month — Andrew Gillum, who ran for Florida governor last year; and ex-Reps. Mia Love (R-Utah) and Luis Guiterrez (D-Illinois). McCaskill and Love fell victim to midterm elections in November.